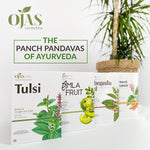 In today's fast-paced ambiance people are vulnerable to a variety of health hazards. Every day, they are diagnosed with a new ailment or symptom. These health problems are caused by a lack of physical activity, poor sleep, and increased stress levels.
Ayurveda, often known as Ayurveda medicine, is an ancient Indian medical system that promotes health and well-being through a variety of treatments such as panchakarma, yoga, massage, acupuncture, and ayurvedic medicine.
Ayurveda aims to diagnose and treat ailments at their source. Ayurveda emphasizes getting to the root of a problem and truly curing individuals, not just hiding or temporarily easing symptoms. Ayurveda stands out as a healing system because of this distinction between allopathic and Ayurvedic medicine.
Ayurveda is not only the healing system that provides instant relief from symptoms. This holistic medicine aims to restore health by understanding and underlying the cause of the disease. It strives to attack the root cause and detoxify, cleanse, strengthen the body tissues(Dhatu) and balance bodily doshas, ensuring complete cure.
Here are the benefits of the Ayurvedic herbs:
Ashwagandha - Did you know? Ashwagandha roots are customarily mashed and combined with honey, water, or ghee. It's categorized as an adaptogen, indicating that it can help your body control stress.
The most important properties of this herb are not present in such a handmade mixture. Ashwagandha provides amazing health advantages when consumed after extracting the most bio-available components.
After a strenuous practice, our Ashwagandha Root with Black Pepper Extract is made in a way that will replenish your hormonal system and aid tissue regeneration. This supplement, which is infused with the goodness of pepper, ensures appropriate nutrient absorption in your body for maximum health advantages.
Tulsi - Tulsi also known as the queen of herbs, is grown in tropical climates. With ample medicinal properties, Tulsi holds a holy place in Hinduism. Ojas Ayurveda Tulsi extract capsules, which are manufactured under the guidance of our medical experts, increase your immunity and help you produce adequate antibodies.
Turmeric - Turmeric is a well-known herb for relieving pain. Osteoarthritis, also known as Sandhivata in Ayurveda, is caused by an increase in Vata dosha. Pain, swelling, and rigidity of the joints are all symptoms of this condition. Turmeric's Vata-balancing properties help to alleviate the symptoms of osteoarthritis. Your body is inundated with antioxidants when you take our Turmeric Curcumin with Black Pepper Extract Capsules, which helps in reducing pain. Curcumin contains anti-inflammatory effects, making it a viable solution for osteoarthritis pain relief and the functioning of the system.
Amla - Amla has eight times the Vitamin C of an orange, twice the antioxidant strength of exotic acai berry, and seventeen times the antioxidant power of a pomegranate.
Vitamin C stimulates collagen formation in the scalp thanks to its high concentration. The Amla Fruit Extract from Ojas Ayurveda functions as a clarifying agent when consumed on a regular basis. This aids in the natural exfoliation of dead skin cells. Our Amla supplements are a good source of nutrients.
Only natural herbs are used in Ojas Ayurveda, and its safety procedures have proven to alter millions of lives. Natural herbs having anti-oxidant qualities, such as turmeric, Ashwagandha, and neem, are used to cure a variety of diseases. No other pharmaceutical practice embraces nature like Ayurveda, therefore it's no surprise that Ojas Ayurveda uses simple notions from nature to treat ailments.