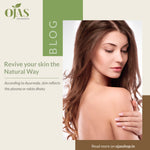 Skin is the largest organ in the body and one of the most exposed. It protects us from heat and cold and is closely connected to the immune system. Lustrous skin is closely indicative of a healthy body resistant to disease while skin that is too dry, oily, discolored or inflamed usually indicates possible health issues. According to Ayurveda, skin reflects the plasma or rasa dhatu, which is the first tissue produced from digested food. Hence right care of skin is essential to good health.
Many skincare products are available in the market, from synthetic to natural. While these skin care products can benefit you in many ways, natural, chemical free and pure ayurvedic products are generally the recommended products to choose from.
What we apply to our skin, such as makeup, fragrances, moisturizers, soaps, and deodorant, is food for the skin. Hence it is essential and recommended to choose quality products for our skin. All ingredients that we could ever need to stay healthy has already been created for us by Planet Earth.
This article will highlight why we should use Natural products for our skin and recommend the best natural and ayurvedic ingredients for skin care.
Why Should Use Natural or Ayurvedic Products for Skin Care?
Natural Products Do Not Contain Harmful Toxins
Synthetic products contain manufactured chemicals such as parabens, formaldehyde, sodium lauryl, coal tar, phthalates and toxins that could be residues of pesticides.
Studies have also found that some synthetic products contain mineral oil, parabens, and other chemicals that can cause skin irritation, hormone imbalance, organ toxicity, and even cancer with long-term use.
On the other hand, natural products are filled with ingredients such as jojoba oil, argan oil, avocado oil, chamomile, cocoa, coconut, apple, lavender and olive oil. These products provide various benefits to your skin because they contain natural vitamins and compounds such as Vitamin C, D, and E, plant based alpha-hydroxy acid, and more, all of which help to improve skin conditions.
Natural Products Are Non-Allergenic
Natural skincare products are made of all-natural ingredients that won't harm your skin, even if they delay the desired results. Using these products is less likely to cause allergic reactions, inflammations, or irritations.
The Manufacturer of Pure Natural products do not Harm Animals
Many skincare products manufacturers test their products on animals. Many of the big names in the industry continue to do so, to the apparent detriment of the animals being tested on.
The good news is that natural skin care product manufacturers forego animal testing and do nothing to harm other living beings. In this sense, they are more ethical and more empathetic than a good many of the synthetic brands.
Skin care according to ayurveda:
Ayurvedic skin care is based on ancient Indian medicine. There are many Ayurvedic skin care formulations on the market today, but it's important to know the quality and ingredients of your products for the best results.
Ayurvedic home remedies for skin care are believed to target specific skin types and needs include besan, honey, manjistha, eladi powder, milk, yogurt. It important to remember that, according to Ayurveda, different skin types require different kinds of skin care. Our experts recommend specific routines and Skin care regimen for vata, pitta, and kapha skin accordingly. You could book an online consult with our doctors to understand your skin type based on Ayurvedic prakriti or constitution. Alternatively, SkinOjas supplement from Ojas Ayurveda has the perfect blend of the Himalayan based herbs which helps in decreasing and control various skin problems, as it helps stabilise three dosas without any side effects. SkinOjas helps to purify blood and work on dead cells of the skin and increase the regeneration power of the cells for better repair.
Best Natural Skin Care Product - SkinOjas
SkinOjas is a natural skin care consumable supplement made with the purest ayurvedic ingredients, such as Manjistha, Neem, Khadir, Sariva and Curcumin. Manjistha and Neem are powerful blood purifiers and detoxifiers and are considered suitable for inflammatory conditions for skin ailments. Curcumin is a tonic for the skin. This ayurvedic combination can help balance the endocrine system and improve the complexion.
Ojas supplements are completely uncontaminated compared to other everyday ayurvedic products. Our capsules are 100% Pure and Natural Extract, powered with properties to maximize results.