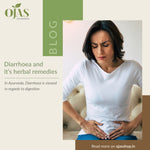 The gastrointestinal tract, consisting of the stomach and intestines, is affected by many bacteria and viruses. The common symptom being diarrhea, caused by bacteria present on various food products, environment and on our hands. Diarrhea may be watery, bloody or whitish. Depending on the type and color, the severeness is decided.
In Ayurveda, diarrhea is viewed in regards to digestion. If the stomach is filled with undigested food, then that may cause diarrhea. Overeating can also result in same. As per our ancient science, if occurring once after 8 or 9 months then just practice langhan i.e do not overeat and keep a fast of one day. However, this does not imply to all the conditions. If occurrence is often, it is advised to consult an ayurvedic doctor instead of fasting. If the seriousness of diarrhea is more often, then langhan will never be recommended.
Due to unhealthy eating, we may experience abdominal pain, constipation, gases and also diarrhea. How do we simply stop all of this from occurring? Why not try to adjust our hectic lifestyle to be in sync with our biological cycle? 
The answer is simple, consuming fibrous food & less carbs help us to improve our digestion and hence this disease will not show up. Electrolyte imbalance is also the leading issue these days. If we have enough fruits and water every day this shall not occur. As a natural solution start having an Amla (Indian gooseberry) one of the highest natural sources of vitamin C is, which enhances appetite, clears the bowels, and controls blood sugar or consume 1 capsule of Amlaojas from Ojas Ayurveda once a day. The Ojas Ayurveda Amla supplement, Amlaojas, is made from 100% natural ingredients and extract and has been tested by experts for efficiency and consistency.
Symptoms
Diarrhea itself is a symptom and a disease. The other common symptoms are: 
Abdominal pain
Gases
Watery loose motions
Loose motions with cramps
The sense of incomplete ejection and a rise in gas or mucus in the stool are two additional symptoms that are frequently associated.
Go Easy On The Dairy
Diary affects certain lactose intolerant people. If you fall into this category, you should speak to a doctor or certified nutritionist. You will need to ensure you get adequate protein and calcium from other sources if your doctor advises you to go completely forgo dairy products. If you have questions about your diet and health, book an online consult with our doctors from the comfort of your home or office. This 25 minutes online consult will help you understand the best foods to resolve the diarrhoea or irritable bowel syndrome that might have been a concern for months or years and our experienced doctors will recommend the best supplements. Why not consider a natural herbal chemical free sourced from the Himalayan Valleys as a solution to your problem? 
Signs That You Need a Consultation
The stools are loose since more than 5 days.
After passing stools ample amount of white sticky liquid is felt and /or seen on stools.
While defecating you are using too much effort always.
While defecating it pains or hurts in stomach which does not seem bearable.
Blood is observed through stools.
Bad breath, which is not going away after 2-3 days of trying.
Wrapping Up
Although diarrhea can be very uncomfortable, here are a few suggestions to prevent or lessen symptoms. One of the easiest remedies to treat diarrhea symptoms is to stress management, and also is to keep a watch on your nutrition and water intake. Consult Our ayurvedic consultant online if you're unsure of the lifestyle changes to make or how diet and lifestyle changes for a recurring situation of diarrhoea. Additionally, on popular demand, Ojas Ayurveda brings a herbal supplement which has proved beneficial to many patients suffering from diarrhea and ibs.
Diarojas is a unique blend of ayurvedic herbs to manage diarrhoea and dysentery. The pure ingredients include Kutaj, Dadim, Bilva and Dhaniya. Kutaj helps manage abdominal pain and restore normal colon function. Dadim is a digestive and useful in treating piles. Bilva helps improve both the digestive fire and small intestine health. Dhaniya assists in curing indigestion. Our products are 100% herbal extracts and works miraculously for diarrhea and all the many other lifestyle diseases.