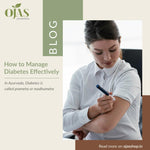 In Ayurveda, Diabetes is called prameha or madhumeha. Explaining the word, Madhu Meha, the name suggest madhu as in honey or sugar (madhur - sweet ) consumption leading to disease. Ayurveda has a different approach of looking at madhumeha or prameha. It is not only related with sugar consumption only but also associated with combination of other unhealthy habits namely:
Sedentary lifestyle - sitting in one place or office for hours
Curd- high consumption of curd 
Sleeping all day- sleeping throughout day increases kapha in body leads to madhumeha as it is kapha vaat disease.
Sugar and jaggery consumption on a high level
A/c 24/7- spending hours in an air-conditioned room can disturb your sweat cycle leading to less perspiration.
Obesity- Eating too often and junk food leads to obesity and fat accumulation in the body.
As per the research performed by the National Institutes of Health (NIH), proper diabetes management with a healthy diet plan can mitigate the risk of diabetes complications like strokes, heart issues, and various other health problems. This write-up lets you dive into the best tips to manage diabetes effectively
Prioritize Healthier Carbohydrates
The high carbohydrate diet affects blood glucose levels in the human body. That's why it's crucial to know the foods rich in carbohydrates. Here is a list of healthier sources of carbohydrates:
Vegetables
Fruits
Pulses like beans and lentils.
Whole grains, including buckwheat and brown rice
Reduce Excess Consumption of Salt
High salt intake can lead to high blood pressure, increasing the risk of stroke and heart-related diseases. Various kinds of pre-packaged food contain large quantities of salt; hence, you should always review the ingredients list especially sodium content on packaging.
Sensible Consumption of Alcohol
High consumption of alcohol can be pretty dangerous especially for patient with diabetes. Ensure you never drink alcohol on an empty stomach and limit intake to avoid diabetes complications.
Welcome Physical Activities
Healthy eating and physical exercise should go hand in hand to address diabetes problems from the roots. Having at least 1 hour of walking daily mitigates the risk of heart-related problems.
Intake Healthy Fats
Fatty foods are high in calories and should always be incorporated in moderation. If you are on a weight loss journey, you could add small portion of unsaturated fats, also called good fats. Unsaturated fat is good for promoting healthy blood cholesterol and vascular health. To name a few
Almonds
Flaxseed
Pumpkin seeds
Canola oils
Nuts
Seeds
DiabOjas: Exceptional
DiabOjas is an excellent ayurvedic blend for diabetes management. Jamun, Karela, and Saptarangi help maintain healthy blood sugar levels. Methi supports the healthy functioning of the digestive system. Fenugreek is an excellent herbal food for debility, particularly that of the nervous, respiratory, and reproductive systems. Gurmar helps control the appetite, reduces sugar cravings, and soothes the liver and pancreas. This herbal formulation is good for overall metabolic and endocrine health.
Benefits of Jamun
It aids in stomach health by addressing various stomach-related issues.
It helps to manage blood pressure.
It helps reduce increased pitta in body
Helps vaat dosha to be balanced in body
It aids in boosting immunity.
It promotes healthy weight loss.
It also regulates diabetes problems.
Benefits of Methi
It eliminates the greater risk of diabetes.
It mitigates inflammation.
It gives you relief from immense pain in the body.
It promotes healthy weight loss.
It alleviates inflammation.
Benefits of Gurmar
It aids in reducing the blood pressure level.
It enhances cholesterol levels by mitigating heart disease risk.
It also helps in weight loss.
It manages diabetes.
It also promotes healthy liver health.
Benefits of Karela
It is quite good for the skin and hair.
It cleanses the liver properly.
It enhances cardiac health.
It overcomes cancer issues.
It helps in weight management.
It keeps your body energetic.
It helps in better digestion.
Benefits of Saptarangi
It is powerful in managing metabolism disorders.
It helps to address fatty liver issues.
It overcomes type-2 diabetes.
It lowers the blood glucose and insulin level in the body.
Final Thoughts
Taking all the above ingredients, in one capsule, will to help your body manage diabetes naturally.  Also, never stop your anti diabetic medication without your doctor's advice. Ojas Ayurveda herbal supplements can assist keeping diabetes in check even if one is diagnosed as a prediabetic. Ojas Ayurveda doctors are available for an online consult. As diabetes needs to be managed on various levels, we have experts on our panel with decade long experience to help you. They will give recommendations on diet and lifestyle changes to manage Diabetes effectively. Our doctors have also specially designed a Combo pack comprising of Diabojas, Livojas and CurcuminOjas for managing Diabetes the natural way. Check our website for more details.