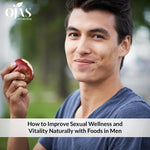 Sexual wellness and vitality play a crucial role in boosting emotional and physical health and enhancing intimacy. It is no secret that being low on vitality can affect one's confidence & performance. This could eventually lead an individual towards anxiety or depression. Another concerning health condition among males is erectile dysfunction in today's technology and stress driven society. However, it can be tackled just by switching to the right diet and lifestyle. This blog emphasizes the foods that aid in improving vitality in men.
List of 5 Foods that are considered best for enhancing Sexual Wellness and Vitality
Ashwagandha stimulates the production of nitric oxide in males that improves the blood flow to men's genitals. Ashwagandha is a powerful and effective solution to overcoming erectile dysfunction. Incorporating ashwagandha boost up the sexual desires in the men that ultimately eliminates most sexual issues.
Dark chocolates are an excellent source of phenylethylamine & serotonin and can reinvigorate your sexual health. It produces hormones that are responsible for improving one's mood. It works as the best medicine for improving your stamina, and the best part is that dark chocolates are a delicious alternative to enjoy an evening with your partner.
Are you looking for a natural way for boosting sexual stamina? If yes, start incorporating pomegranates in your diet, which are rich in antioxidants. They eventually raise the level of blood flow in the genital area for males. You can also drink pomegranate juice daily. It's the ultimate fruit drink that not only enhances energy level in the body but also stamina.
Apples are the powerhouse of quercetin that further offers a plethora of benefits to humans, including rejuvenating men's vitality. Apart from improving sexual wellness, it also helps you get rid of fluctuating blood pressure levels and iron deficiency. 
When men want to boost sexual vitality, there must be enough Zinc in their bodies. This is one of the minerals found in ample quantities in oysters. Therefore, Oyster is known as the natural remedy that boosts sexual performance & power, thereby adding a dose of energy to enhance the quality of sex life. 
MaleOjas: The Ultimate Product Promoting Male Reproductive Health
MaleOjas is a rejuvenating combination of various ayurvedic herbs and minerals known for amplifying sexual wellness and vitality in men. With years of R&D, the experts and doctors at Ojas Ayurveda launched this product, aiming to help men improve their sexual performance.
Benefits of Shilajit
It is a mineral from the Himalayas.
It is quite effective for the weak constitution and general debility.
It's an anti-ageing elixir.
It is an important rejuvenating mineral for sexual health and vitality.
Benefits of Ashwagandha
It is an excellent herb for the mind as it has nurturing and calming properties.
It is rejuvenating for muscles, marrow, and semen.
It promotes the healing of tissues.
It regenerates the hormonal
Benefits of Musli
It increases the level of testosterone and libido, which in turn enhances sexual performance.
It is a stress management
It reduces free radicals in human beings.
Benefits of Gokshura
It is quite effective in maintaining urinary health.
It has cooling properties and soothes membranes of the urinary tract.
It strengthens kidney function and nourishes kidneys.
It helps in strengthening the reproductive system by improving semen quality.
The Bottom Line
Hopefully, now you have the knowledge on ways to improve the quality of sexual life and resolve issues that you might have been bothering you. MaleOjas by Ojas Ayurveda, is an ayurvedic solution to improve your intimacy with your partner and regain confidence in real life. You can visit our website and explore our product catalogue to enhance the quality of living.