News — ashwagandha supplement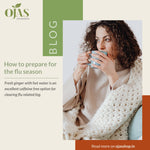 According to Ayurveda, Ama, the accumulation of toxins or undigested food complicates the treatment of an individual's Dosha. In general, Ama is characterized as Kapha Dosha i.e when aggravated it is heavy, cold, slimy and dense. Ama is also the root cause of most colds, fevers, flus. A weak immune system could lead to allergies and hay fever and later onto some. Whether you're prepared or not, the flu season/ winter is coming. There are numerous precautions you can take to significantly lower your risk of being ill. Although influenza viruses can appear any time of the year, winter is...
---
Struggling with Weight Loss? Tired of following fad diets which always seem to fail? Losing long-term body fat seems very challenging, however we assure you it not impossible if you follow the tips suggested here. It demands regular exercise, a nutritious diet, patience, and most importantly a dedicated mindset. By a healthy diet, we mean the right foods for your body type, coupled with natural herbal supplements, could be the answer to loosing body fat in a steady sustainable manner.  So, how do you implement tips strategically in your day-to-day life? Put your mind at rest and let's dive into...