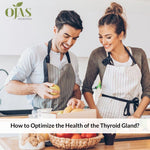 With the change in our lifestyle over the years, there has been an exponential rise in health problems associated with our thyroid gland. Thyroid disorders have become ubiquitous, especially among women. There are various types of thyroid diseases, but the most prevalent ones are Hyperthyroidism (overactive thyroid) and hypothyroidism (underactive thyroid). If you fall into an overactive thyroid, you may face issues such as rapid weight loss, anxiety, and an unusual rise in the heart rate. On the contrary, underactive thyroid can trigger intense weight gain, constipation, and high fatigue.
But how can one maintain a healthy thyroid gland? Is following only a nutritious diet the definitive way to maintaining a healthy thyroid gland? You may wonder, what else can I do to improve my thyroid health? Put your mind at ease as this write-up demystifies the best natural ways to balance thyroid hormone production.
A balanced diet is the key to a healthy thyroid gland.
A well-balanced diet is highly recommended for a healthy thyroid gland. You should avoid consuming refined sugar, trans fat, and processed foods. Start incorporating vegetables, lean protein, heart-healthy fats, groundnut, avocado oils, and canola. Another primary reason for thyroid disorders is iodine deficiencies in the body, as stated by the American Thyroid Association. That is why one must have to add iodine to the regular diet. Start consuming dairy products, saltwater fish, table salt, and other seafood for that purpose.
Keep yourself away from environmental toxins.
Undoubtedly, it's impossible to keep yourself entirely away from all environmental toxins. Still, you can limit the exposure as much as possible—some of the common elements can be fluoride, chlorine, and excess estrogen. Keeping yourself home ventilated is the best option to maintain thyroid health better.
Follow healthy habits
Incorporating healthy habits into your lifestyles, such as exercise and yoga, enhances thyroid functions and boosts metabolism. They also mitigate thyroid disorders symptoms and aid you in achieving optimal thyroid health. Low-impact exercise could prove effective for most individuals. Moreover, adding meditation, walking, yoga, and 8 hours of undisturbed daily sleep can be some surefire ways for effective thyroid functioning.
Regular doctor consultation
Regular visits to your doctor help you identify the thyroid disorders' symptoms in the early stages and enable you to follow the proper treatment to balance them. If you take the thyroid blood test, you get a complete analysis of the overall health of the thyroid. Alternatively, you could book an online consult with Ojas Ayurveda doctors for a discussion of diet lifestyle and supplements which could help maintain the appropriate thyroid levels. 
Thyrojas- Ayurvedic Treatment For Healthy Thyroid Gland
As per Ayurveda, diseases occurs when doshas are in vikrut (imbalanced) form in body. Thyroid disorders occur as GALGAND ROGA in Ayurveda, meaning there is increase in Vata and Kapha causing suppression of Pitta dosha, it involves all srotas in the body.
Thyrojas by Ojas Ayurveda is a unique blend of ayurvedic herbs that aid in maintaining optimal Thyroid gland health. Our product is committed to 100% quality and purity, comprising of Ajwain, Methi, Guggul, and Curcumin. Which helps in reversal of vikriti to Prakriti also helps in normal functioning of gland, maintaining metabolism
Ajwain and Methi stimulate the digestive fire and resolve indigestion issues. Guggul reduces fat and toxins and increases the white blood cell count. It is also an excellent resin for arthritic conditions. Curcumin helps purify the blood and improve intestinal flora. Turmeric promotes the body's overall metabolism and aids in the digestion of protein.
Benefits Of  Thyrojas
It helps in building healthy cholesterol levels.
It balances the blood pressure
It gives you relief from ingestion issues.
It helps in weight loss.
It enhances glucose tolerance in the human body.
It increases white blood cell
It reduces fat & toxins.
It is best for arthritic
It helps in boosting metabolism
It helps regulate menstruation.
It increases appetite.
It helps heal skin and mucous membrane.
Conclusion
We have covered all the natural ways to make your thyroid gland healthy. Besides these remedial measures, we have also recommended that you incorporate Thyrojas in your daily routine in combination with the above diet regimen and regular exercise, one can quickly get over thyroid issues. For more information, you can reach out to our experts anytime, book an Online consult now.